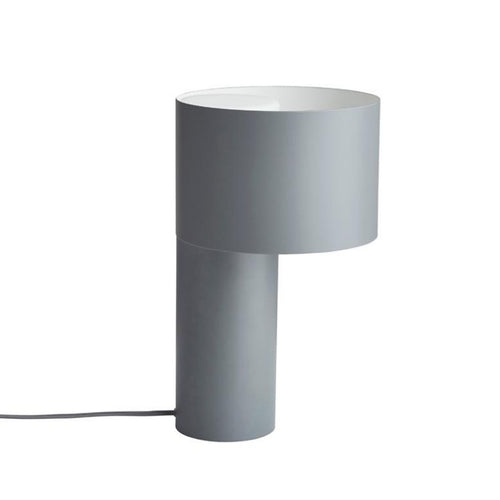 woud
Tangent Table Lamp, cool grey *EU version
$384.00
Regular price
$958.00
Country of Origin: Denmark

Designer: Frederik Kurzweg
Manufacturer: Woud

Material: Steel
Dimensions: 200mm Diameter, 340mm H
Why is it Special?
Tangent table lamp arose from an experimental study with tubes and proportion and how these can be joined together. A clean graphical design where two steel tubes meet at their tangential point of contact. The small tube provides space for the electrics while the large tube functions as the lamp shade. On top of the inner metal tube is a shade made of opal glass that covers the bulb creating a soft light when turned on and a visual effect of one cylindrical tube when turned off.

Designed by Frederik Kurzweg
An upcoming design talent born in Germany. His background as a trained cabinet maker, industrial and furniture designer combines know-how, craftsmanship and creativity. Fascinated by technical precision his designs are characterised by clean lines and graphical expressions. 

*As Woud is based in Europe, all their lamps/electrical items are made to the European standard of 220-230 volts, with a European plug. They are CE-marked which means that they are approved for use in Europe only. We recommend using a 110 to 220 volt adapter.