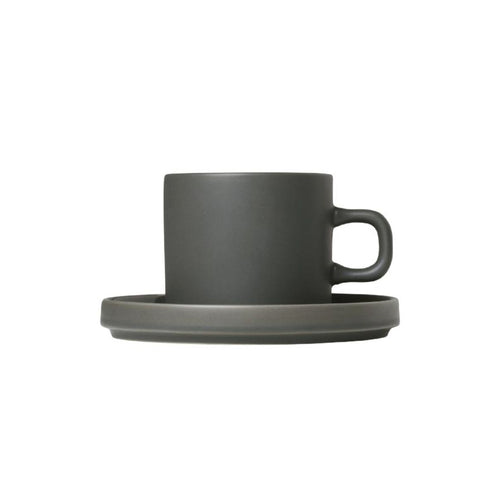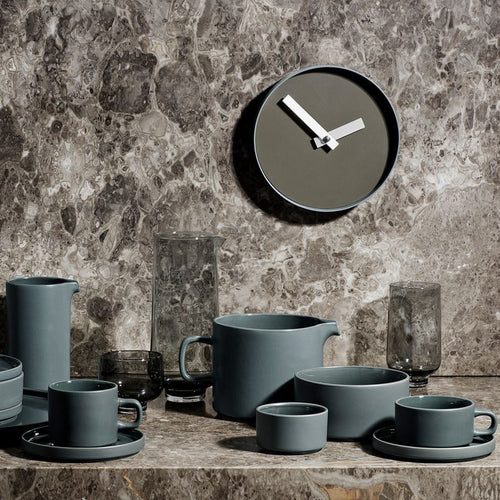 Blomus
Coffee Cups + Saucer, 2pk, Agave Green
$42.00
Country of Origin: Germany
Manufacturer: Blomus
Material: Stoneware
Dimensions: Cups 3-3/16" Diameter x 2-3/16" H, Saucer 5-11/16"
Why is it Special?
Coffee Cups with Saucers, 7 oz, Set of 2. Functional for every occasion and has what it takes to become a favorite accessory for coffee lovers. Beautifully shaped yet humble enough to act as a discreet backdrop to the perfectly arranged meal. The new MIO tableware collection was designed by Floz Design in Germany. Stoneware pieces include bowls, plates, mugs and serveware. The full range comes in three matching colors: moonbeam, agave green, pewter (charcoal) & mirage grey (with light grey undertones). Start setting the table with your own unique color combinations.  Stacks beautifully for in-cabinet storage.
Outside of stoneware is matte. Inside serving area is glazed for design compliment and easy cleaning.
Made of stoneware
Dishwasher safe
Microwave safe
Cup is 3-3/16" diameter excluding handle x 2-3/16" height
Saucer is 5-11/16" diameter
MIO stoneware is manufactured from clay, quartz and minerals such as calcite and is defined as a ceramic product. The stoneware is molded at very high temperatures using casting techniques. The high temperatures during the firing process make stoneware more stable than clay and less translucent than porcelain.
Due to the heating and glazing processes of stoneware, these pieces may have slightly different attributes which can add to their beauty and uniqueness.