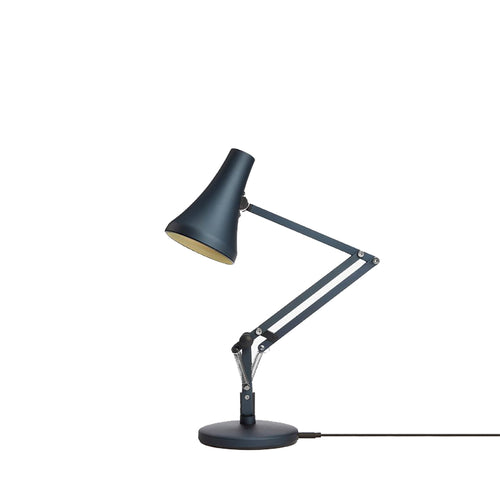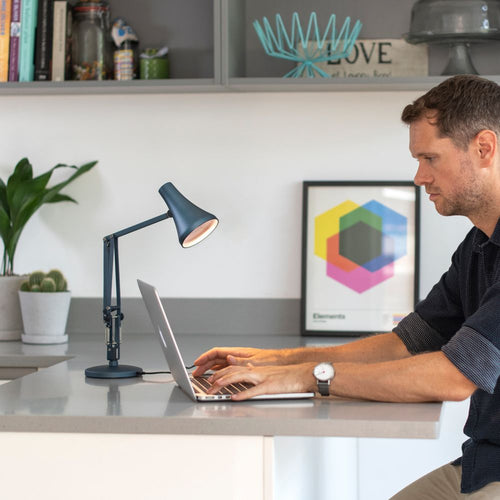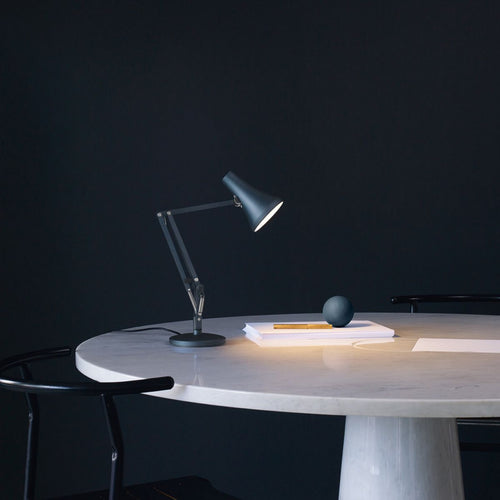 Anglepoise
90 mini mini desk lamp, steel blue/grey
$174.00
Country of Origin: England
Designer: Sir Kenneth Grange
Manufacturer: Anglepoise
Materials:
- Anodised brushed aluminium finish
- Aluminium shade and arms
- Chrome plated and polycarbonate fittings
- Cast iron base with aluminium cover
- Integrated LED bulb with dimming
- USB powered (supplied with mains adapter)
Dimensions:
- Shade diameter: 9.2cm
- Shade height: 12.7cm
- Max reach: 52cm (from base to shade)
- Base diameter: 12cm
- Cable length: 150cm
Why is it Special?
Anglelpoise has been making classic lamps in England since the 1930s. They may look familiar to you, perhaps because they star in many James Bond films (including the new Spectre), and the Queen of England has one on her desk. Also Picasso owned one. So did the lead character in Salman Rushdie's novel Midnights Children. And they are featured on a UK stamp. It's like owning a piece of design history!
Characterized by a pioneering perfect balance mechanism (they stay put with every adjustment) and an engaging kinetic form. The iconic, quintessentially British brand Anglepoise® produces an incomparable series of practical, energy-efficient task lamps, ideally suited for both domestic and commercial interiors.
Inspired by the 1970's vintage classic Model 90, the 90 Mini Mini Desk Lamp in Steel Blue & Grey combines versatility, personality and functionality, in a portable, playful, USB-powered LED lamp. Wrapped in its tiny form yet iconic form, and at half the size of a standard desk lamp, this modernist desk lamp, based on the vintage classic, is designed to fit just about anywhere.