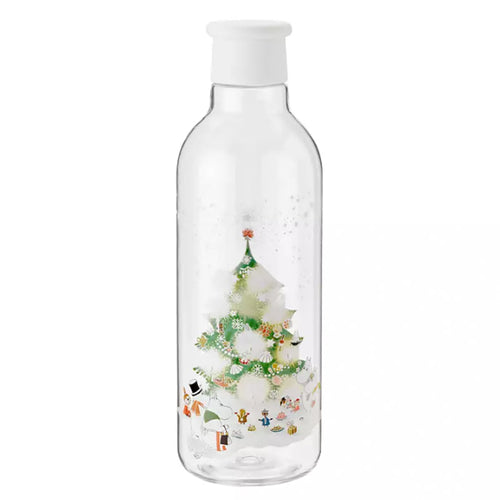 Stelton
Drink It Water Bottle, Moomin, White
$26.00
Manufacturer: Stelton (Denmark)
Desginer: Daniel Debiasi and Federico Sandri
Materials:  BPA Free
Dimensions: Ø: 7,5 CM H: 22 CM
Why is it Special?
In collaboration with Moomin, RIG-TIG launches its first collection with illustrations from the world-renowned world of the Moomins; a family of adventurous trolls who live in Moomin Valley with their friends. Swedish speaking writer and artist Tove Jansson, who grew up in Finland, achieved worldwide fame as the creator of the Moomin stories, written and illustrated between 1945 and 1977. The stories of the Moomins and their friends have been translated into more than fifty languages and the white and roundish trolls with large snouts are loved by people of all ages all over the world.
DRINK-IT helps you keep track of your fluid balance. With its 0.75 l, the drinking bottle is spacious and comes with a screw-on lid which is easy to use for all family members. Whether you are biking, go hiking or simply are on the go, water is incredibly important. A fluid loss of only 1-2% of the body weight can lower your performance by 10-20%, so be sure to drink plenty of water. With DRINK-IT in your bag, you avoid spontaneous purchases of bottled water, thus contributing positively to the environment. The drinking bottle is free of BPA and phthalates.
• Spacious drinking bottle for sports or when you are on the go
• Convenient screw cap
• Free of BPA and phthalates
• Can also be used for all types of cold drinks, such as juices and soft drinks.
• Does not absorb odor or taste
Hand wash with a gentle dish soap, lukewarm water and a soft cloth.Not dishwasher-safe.