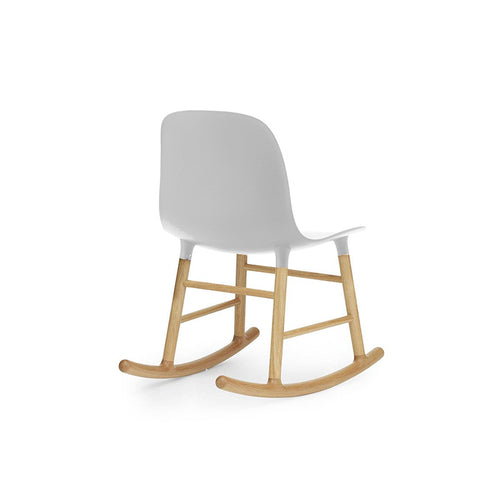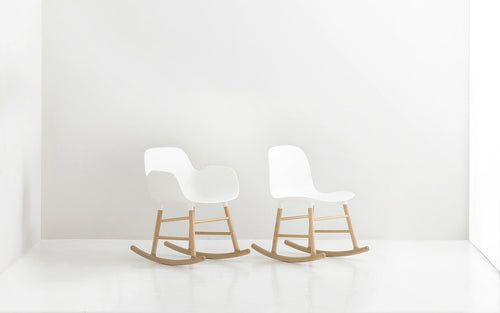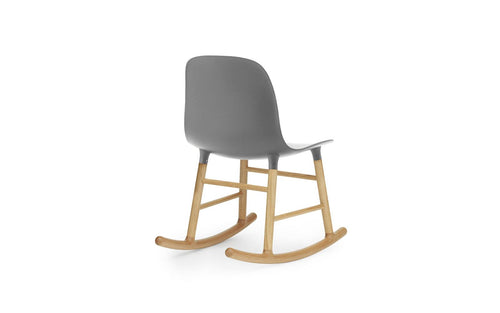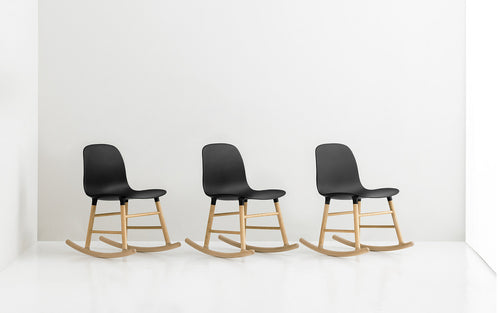 Manufacturer: Normann Copenhagen
Designer: Simon Legald
Country of Origin: Denmark
Dimensions:  H: 73 x L: 48 x D: 69 x SH: 38 cm
Materials: Shell: Plastic, Legs: Oak
Why is it Special?
With cohesive family traits, the Form chairs, stools, and tables are versatile and timeless dining room furniture with a contemporary and clean design.
Combining function, aesthetic, and a simple design, Simon Legald has designed Form to be suitable for every environment. The collection is characterized by high durability and an exclusive character. With a range of molded shell chairs, armchairs, barstools and dining tables Simon Legald merges a strong historical design idiom with an innovative industrial design production.
In order to sit comfortably for long periods, people need freedom of movement. The Form rocking chair has a molded plastic shell with a wide, curved seat, which gives plenty of opportunity for changing one's sitting position. The thickness of the shell also transitions from 1 cm at the seat to 4 mm at the top of the backrest. This ensures strength and support where the weight is borne most, as well as good flexibility for the back.
The rocking frame also offers extra potential for movement, and the comfortable, rocking rhythm has been shown to be both calming and relaxing.In addition to the comfort benefits of the rocking chair, it is especially well suited for creating inviting corners and expressive environments in all types of settings. With its sculptural silhouette and meticulous consideration for details, the Form rocking chair captures one's eye, creating atmosphere and seamlessly completing decors in large as well as small rooms.The Form rocking chair is available both with and without armrests. It is a natural extension of the existing wooden frame and illustrates the rich potential of the design.
Designer Simon Legald has this to say about the newest family member of the series:"The rocking frame was actually one of the first frames I designed. I think that there is something unexpected and surprising about the combination of an industrial, plastic shell and the more traditional wooden rocking chair frame. The frame is extremely strong and has been assembled by hand by furniture craftsmen who have ensured that the quality is the best possible. The parts for the wooden bases are treated with two coats of clear varnish before they are mounted onto the shell. This makes the frame extra hard-wearing and offers a beautiful, natural surface."
Seats are available in black, white, grey, blue, red, or green. Legs are available in oak or walnut, or in powder-coated steel to match the color to the seat! So many possibilities!
See the whole range on the Normann Copenhagen website and contact us to order.
* Because of the size and weight of this item, free shipping does not apply. Please provide your shipping address and we will get back to you with a quote as quickly as possible.