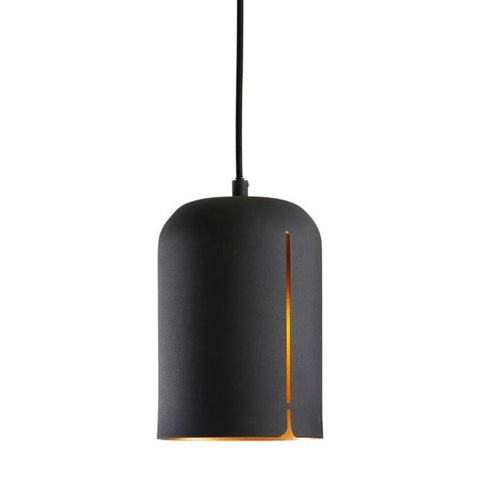 woud
Gap Pendant, Short, Black
$324.00
Regular price
$381.00
kCountry of Origin: Denmark

Designer: Maja Bøgh Vindbjerg
Manufacturer: Woud
Material: Powder Coated Metal
Dimensions: 140mm Diameter, 200mm H
Why is it Special?
The Gap pendant combines a raw outer shell made from powder-coated metal with a feminine brass coloured inner creating a warm and cosy glow. The sleek gap in the shape lets light escape and create a graphical reflection with a golden glow from the inside. Hang the Gap pendant on its own in combination with more Gap pendants to increase to experience of the reflection.

Designed by Studio Nur
A Danish design studio founded by Maja Bøgh Vindbjerg. Her background as an architect is visible in the sculptural and architectonic lines of her designs. With a minimalistic expression in mind, she aims to create timeless and functional design rooted in the Scandinavian design tradition. She has left her mark on the WOUD collection with the Auka flower stand, Baenk bench, Gap pendants, Geyma sideboard, Lean lounge chair and the Soround tables.
*As Woud is based in Europe, all their lamps/electrical items are made to the European standard of 220-230 volts, with a European plug. They are CE-marked which means that they are approved for use in Europe only. We recommend using a 110 to 220 volt adapter, although we still cannot guarantee that it will work perfectly in your home. The difference in voltage may affect the light of the lamp and you will not be able to use a dimmer function. The lamp can also make 'wiring noises' due to the voltage difference. If you alter or rewire the lamp/item in any way, there will be no warranty applicable for the lamp/item and you cannot return it. We suggest you speak with your electrician in order to make the best choice for you and your home!