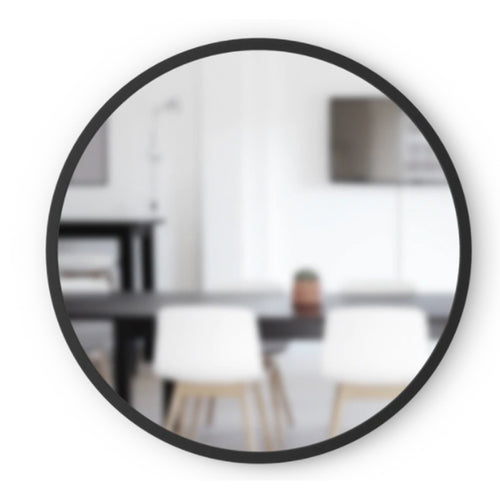 Umbra
Hub Mirror 24", Black
$99.00
Manufacturer: Umbra Shift

Designer: Umbra Shift

Dimensions: 24" DIameter

Material: Mirror, Rubber

Why is it Special?
The Hub Mirror looks great in any room it's put in. Its innovative rubber frame makes it more durable than a typical wall mirror, and gives it a modern, industrialized look. Its reflective surface helps to attract natural and artificial light, instantly making the room appear larger and brighter. With a clean and modern design, the Hub Mirror fits with a variety of decor styles and brings an instant refreshing touch to your wall. Available in a variety of finishes and sizes to best suit your space.
Modern, Versatile Round Mirror:

 

Hub is a modern and versatile decorative wall mirror that can be used to enhance a variety of spaces in your home
Decorative Rubber Frame:

 

Hub's innovative rubber frame doubles as a protective bumper; making it ideal for high-traffic areas
Boosts Light:

 

Hub's large size is ideal for reflecting both natural and artificial light to help brighten any room, day or night
Easy To Install:

 

This large, decorative, modern mirror is easy to install and has a picture hanging wire on the back for mounting