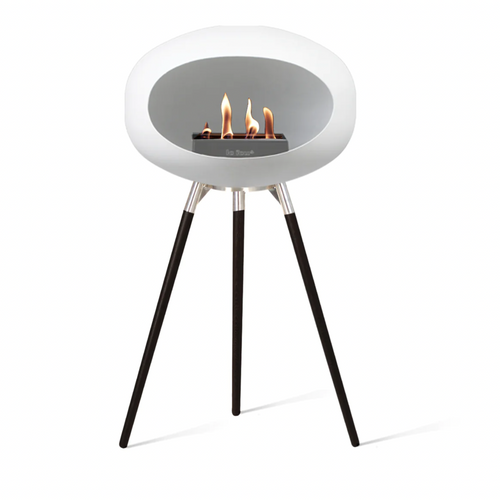 le feu
Le Feu Ground High, white dome, black legs, 75 cm
$1,674.00
Regular price
$2,231.00
Manufacturer: Le Feu

Designer: Le Feu

Dimensions:
Dome: W: 20.47 inch / H: 13.77 inch / D: 19.29 inch
Burner:  W: 7.87 inch / H: 2.95 inch / D: 9.44 inch

Material: 
Dome:  0.09 inch S235 Steel, high heat resistant paint
Burner:  SS304 Stainless steel, Brushed, Ceramic fiber

Why is it Special?

Le Feu is a Danish company that was established in 2017. Iconic Danish design, flexibility and environmental approach have given the bio fireplaces from Le Feu an overwhelmingly positive reception in the market, and today are currently sold in 17 countries worldwide. The story of Le Feu is based on true passion and years of experience, resulting in the creation of an innovative and relevant product for today's market. For generations, the Lauritsen family has worked with fireplaces and wood stoves in defining the fireplaces as the heart and gathering place in Danish homes. As a 3rd generation Søren Lauritsen naturally became part of the "warm universe" where he as a young boy, explored and learnt the crafts of the trade in his grandfather's fireplace shop. 

A new Le Feu model is born. Le Feu - Wall is the latest addition to the collection of different models that Le Feu offers. The new model does not take up any space in the living area of your room, and might just be the final touch that makes your room unique and complete. Le Feu - Wall comes with a wall mount, designed especially for Le Feu fireplaces. You can turn the fireplace 90 degrees both sides, making it possible to adjust where you want to see the flames from and where you want the heat to go. The elegance of the design, the clean lines and real flames make the Le Feu Fireplaces the crown jewel of the room.

*Le Feu - Wall can only be applied on brick and concrete walls.

Fuel Type:  Bioethanol (Minimum 95% pure), Fuel Volume: 1.5 Litre, Fuel Consumption: Up to 0.3 liter pr. Hour, Heat efficiency: 3 kW (10236.42 BTU).