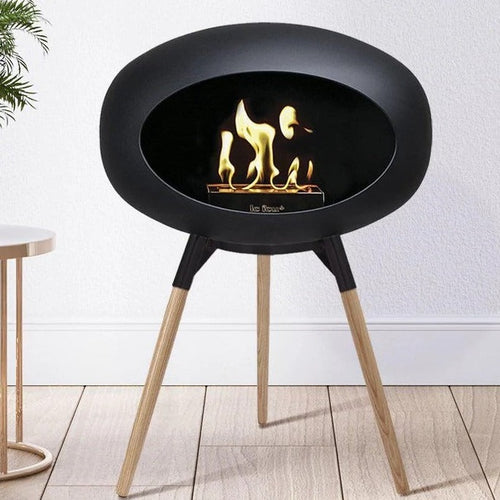 le feu
Le Feu Ground Low, black dome, oak legs, 45 cm
$1,519.00
Regular price
$2,025.00
Manufacturer: Le Feu
Dimensions:

Dome: 52 cm x 35 cm x 49 cm
Under Bucket: 25 cm x 22 cm x 10 cm
Legs: 45 cm
Total: 78 cm x 52 cm x 48 cm
Material: 

Dome: mocca steel, high heat resistant paint
Burner: stainless steel, ceramic fiber
Under bucket: stainless steel, high heat resistant black
Legs: Smoked Oan
Why is it Special?
Le Feu is a Danish company that was established in 2017. Iconic Danish design, flexibility and environmental approach have given the bio fireplaces from Le Feu an overwhelmingly positive reception in the market, and today are currently sold in 17 countries worldwide. The story of Le Feu is based on true passion and years of experience, resulting in the creation of an innovative and relevant product for today's market. For generations, the Lauritsen family has worked with fireplaces and wood stoves in defining the fireplaces as the heart and gathering place in Danish homes. As a 3rd generation Søren Lauritsen naturally became part of the "warm universe" where he as a young boy, explored and learnt the crafts of the trade in his grandfather's fireplace shop. 


Every home deserves a warm heart!

Le Feu Ground Low is the collection's youngest brother and also the one with the lowest weight. The Ground Low is easy to move around the home so perfect for a cool evening on the terrace, on the balcony or a cozy evening on the sofa. This bio fireplace creates a cosy warmth and fits well into rooms with limited space. Experience the authentic danish cosiness, the stylish design and natural care for the environment with the Ground Low.

Le Feu fireplaces produce approximately 2.0 to 3.0 kw of heat which is equivalent to a small gas or electric heater. The amount of CO2 produced by the fireplace is small and comparable to the level emitted by a candle. Bio ethanol fuels produce clean, smokeless warmth without the harmful emissions produced from conventional fossil fuel fires and wood burners. We recommend that if the fireplace is used in small rooms and the burner is set to maximum adjustment, the door(s) or a window should be opened to allow for air circulation and guard against indoor air pollution.

The bio ethanol burning time is dependent on the burner setting used and conditions of the climate. In areas with a high air current, the duration may be be reduced. It is estimated 1,5 litre of fuel may last for up to 5 to 6 hours subject to conditions.

The eye-catcher in any interior!


Fuel Type: 
Bioethanol (Minimum 95% pure), Fuel Volume: 1.5 Litre, Fuel Consumption: Up to 0.3 liter pr. Hour, Heat efficiency: 3 kW (10236.42 BTU).