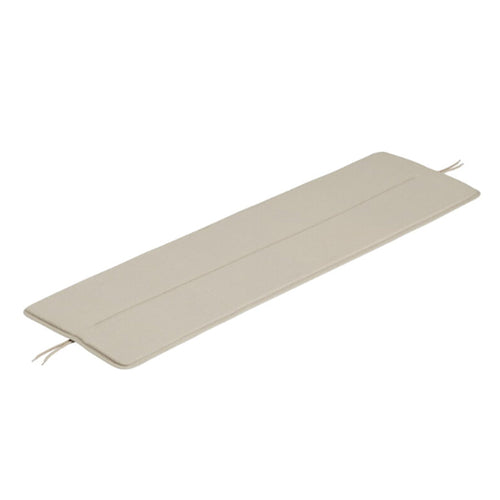 Muuto
Linear Steel Bench Seat Pad, Grey, 110cm
$147.00
Designer: Thomas Bentzen
Country of Origin: Denmark
Manufacturer: Muuto
Materials: Water-repellent and breathable textile, UV protected polyester, foam filling.

Dimensions:  109 cm L x 32.4 cm W x 1 cm H
Why is it Special?
The Linear Steel Bench brings new perspectives to modern outdoor furniture through its straight lines alongside the folded edges, halfcircular intersecting legs and small spacing for easy removal of water.

Designed by Thomas Bentzen, this seat pad is designed to add comfort and a graphic expression to Muuto's Linear Steel benches. The seat cushion is made of breathable and water-repellent fabric, and its colours won't fade when exposed to sunlight. During rainy weather, the seat pad is recommended to be taken indoors.

Care instructions: Remove non-greasy stains by carefully dabbing with a lint-free cloth wrung out in clean, warm water. If necessary, clean by dabbing with soapy water.

NotesI: t is recommended to take the seat pad inside during rainy weather to ensure a long lifetime of the product.

*Bench sold separately from seat pad.