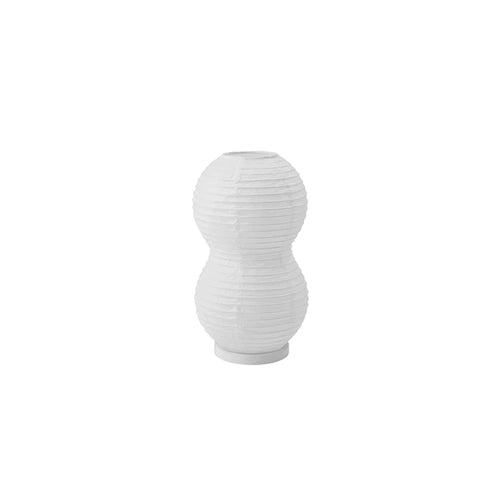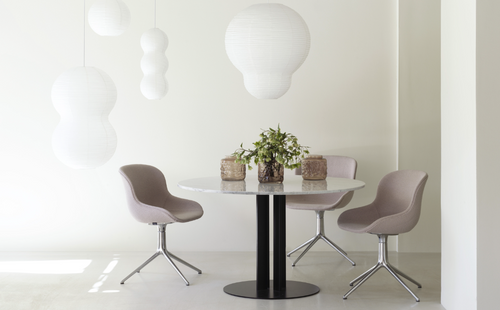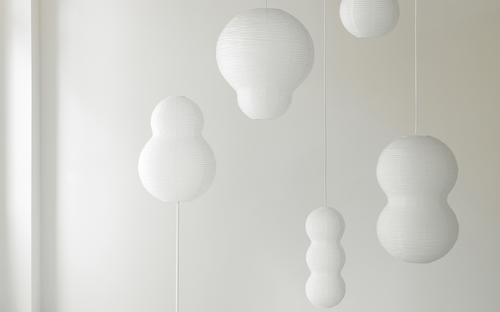 Manufacturer: Normann Copenhagen
Designer: Saskia Huebner
Dimensions: H: 28,5 x Ø: 16 cm
Materials: Rice Paper lampshade, white powder-coated steel pole & base with soft EVA foam underneath, to protect the surface.
Why is it Special?
Puff is a series of rice paper lamps. The design is voluminous and light with different variants and sizes catering to both smaller and larger environments. A white textile cord with socket and canopy can be purchased as an add-on for the pendants. The lampshade can be cleaned with a feather duster, or wiped with a microfiber cloth.


The Puff Lamp Collection is a modern and sculptural take on the traditional rice paper lamp, designed with organic and simple principles in mind.
The Puff Lamp Collection honors one of the oldest traditions within lamp making in Asia. Rice paper lamp shades have been used for centuries and have originally adorned the halls of temples. It was also a trip to Japan that sparked the inspiration for the Puff Lamp Collection, where designer Saskia Huebner saw endless variations of the rice paper lamp. This became a motivation to find the right balance between sculptural playfulness and functional minimalism and resulted in a collection that invites you to arrange different voluminous shapes in a playful matter. Puff is thus suitable for the large hotel lobby, restaurant, or a small private room.
The rice paper material makes it possible to create immense volume, without wasting unnecessary material or creating a heavy, inconvenient design. The rice paper allows for a natural, warm light, as it gently shields the light source from being too bright and overexposed. The lamps thus submit a soft light, while appearing like organic sculptures in the given space.