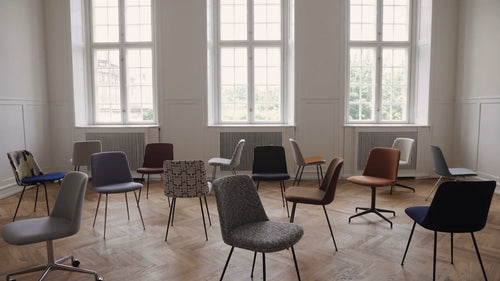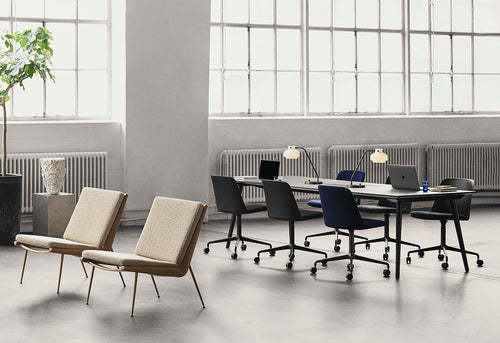 &Tradition
Rely Chair HW28, Plastic Seat, star base, w/ gas lift and castors
$741.00
Country of Origin: Denmark

Designer:  Hee Welling

Manufacturer: &Tradition
Dimensions: 
H:78cm / 31.2in – 92cm / 36.8in, W:47cm / 18.8in, D: 57cm / 22.8in,  Seat height: 42cm / 16.8in – 56cm / 22.4in

Materials: Polyproplylene, glass fiber, polished or powder coated aluminium, upholstery.
Why is it Special?
Boasting a shell crafted from 100% recycled plastic, Rely is a chair with environmentally-friendly credentials. Designed by Hee Welling, its simple appearance and ergonomic design embodies his signature fusion of minimalism and practicality. The shell is available in a range of contemporary colours, while made-to-order upholstery for the shell is available in a variety of fabrics. The chair is now offered with a five-star base with gaslift and castors.

More Info:

Shell made from 100% recycled polyprolene with 15% fiber glass. The 5-star swivel base with gaslift & castors is made from extruded aluminium, which is polished or powder coated. Upholstered seats are made with a veneer plate with 30mm foam. Seat pad available upon request.


5-star aluminium swivel base w. castors & gaslift
Polished aluminium or Black
Matching castors only

No upholstery. Seat pad available in all fabrics, leathers and COM


Strength, durability and safety testing
The chair is tested for strength, durability and safety according to: – EN 16139 Level 2 – Extreme use.
Cleaning instructions
Please download the Material Care & Cleaning instructions through www.andtradition.com