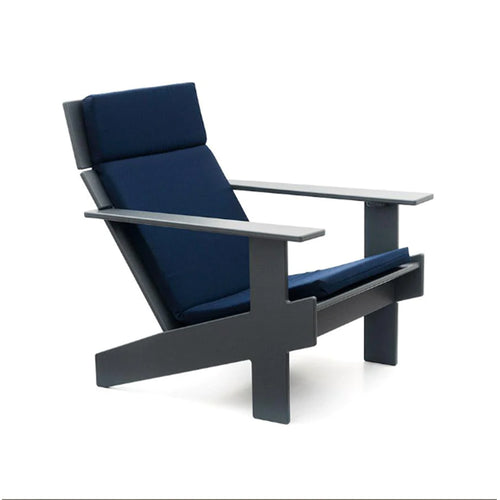 loll designs
Lollygagger Lounge Cushion, Canvas Navy Blue
$241.00
Manufacturer: Loll Designs
Country of origin: Made in the USA
Dimensions: Width: 18" (45.72cm), Length: 16.25" (41.275cm), Height: 1.5" (3.81cm)
Materials: Sunbrella fabric
Why is it Special? 
Seat cushion will fit on the Adirondack chair, Lollygagger Lounge/Tall/Lounge/Rocker and Cabrio chairs. A Velcro strap around the back will keep the cushion secure and you lollygagging for days.


Loll products are made with recycled high-density polyethylene (HDPE) primarily from milk jugs. Milk jugs are used due to their lack of pigment so Loll's vibrant colors can be created. As Loll material is a post-consumer recycled material, the medium to create the material does inevitably fluctuate. Although we do continuously strive for the best consistency possible, material color and texture may slightly vary from sheet to sheet and thus product to product may have slight variances. However, with that said, its nothing to worry about as we do our best to catch these inconsistencies in the shop. We also use USA made aluminum inserts mated with a 304 grade stainless steel bolt in all joinery. Richlite paper composite is used for structural elements in some pieces. Arbor Wood thermally modified wood can also be found in a select few products. All our materials are chosen for their high quality, no maintenance, performance and longevity. We want you to enjoy your furniture, not work on it.
We offer cushions upholstered in Sunbrella fabric and designed for use outdoors. Solution dyed acrylic yarns make these textiles easy to clean and fade resistant. Our cushion cores are comprised of urethane foam and polyester fiber with a moisture repellent wrap.
Loll Designs strives to build long-term relationships based on confidence and trust with our customers. We sit beside, on top, and beneath the quality of our fine furniture and will make things right if you are not completely satisfied with your purchase.

Loll products are manufactured with a highly weatherable HDPE sheet. Our post consumer resin includes a superior UV additive designed for plastics that improves exterior durability, greatly reducing characteristic surface degradation caused by sunlight and other UV light sources. Pigments / color concentrates are also added that are formulated with the best weathering pigments available in the market in a particular color-space.

The sun is very hard on materials that have constant direct exposure and we cannot guarantee the material color will not change over time. However, the HDPE that Loll uses has a UV stabilizer and is very resistant to fading. The color is not a finish coat; it is a pigment embedded in the material throughout. Some pieces use Richlite natural paper composite. Richlite will patina as it weathers and the lighter, natural colored material will redden or turn grayish. Black will remain black for years but with some apparent weathering. You will never have to paint or stain Loll Furniture.